Description
ThinSlim Foods Impastable Low Carb Pasta is a revolutionary pasta that is soy-free and shirataki-free, low in net carbs, low in calories, and packed with fiber.
ThinSlim Foods Impastable Low Carb Pasta Highlights:
Real Pasta - Wholesome pasta you can enjoy with far less carbs. There are an endless number of pasta look alikes available with ingredients like mushrooms, beans, chickpeas, peas, hearts of palm, and more. Don't settle for imitation pasta.
Real Taste - You will love this pasta, it actually comes with a taste guarantee.
Real Healthy - ThinSlim Foods pride themselves on using the very best quality, natural ingredients that fit in with your diet and keep you healthy.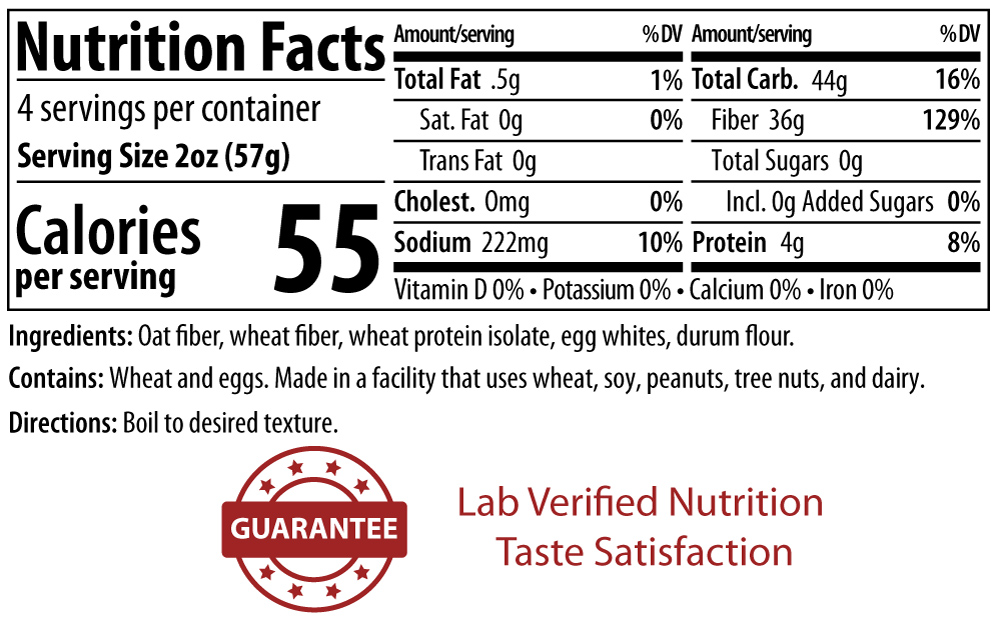 Ingredients: Oat fiber, wheat fiber, wheat protein isolate, egg whites, durum flour
Allergens: Contains wheat and eggs. Made in a facility that uses wheat, soy, peanuts, tree nuts, eggs, and dairy.
Storage: Shelf Stable
Kosher: KM Kosher
Nutritional Lab Testing: The nutritional information for this product has been independently lab tested
Net Carbs: Net Carbs calculated as Total Carbs - Fiber - Sugar Alcohol (if applicable)
Shipping This Product:
Although this product is a perishable item we have confirmed with the manufacturer that it does not require our Cold Pack Service for normal transit times. Once the product is delivered, please freeze or refrigerate according to the package directions or as listed on this product page. 
Why Buy From Us:
Why Buy From Us:
FREE Shipping On Orders $99+
Medical Grade Weight Loss Products
Satisfaction Guarantee
Best Customer Rewards Program
24/7/365 Real Live Customer Service
Free Offers & Products On Orders $50+
Same Day Shipping When You Order Before 12 PM EST
REVIEWS
What everyone is saying about ThinSlim Foods Impastable Low Carb Pasta - Shells